Nalgene™ Square Wide-Mouth PPCO Bottles with Closure 53mm 500mL Case of 48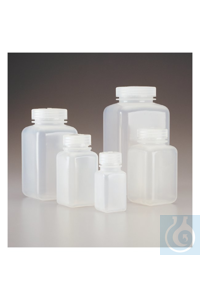 Images peuvent différer de l'original
N ° de commande.: 108721104
3,88 €
Pour 1 pièce(s) (achat minimum: 48 pièce(s)) plus TVA (21%) plus frais d'expédition
Nalgene™ Square Wide-Mouth PPCO Bottles with Closure
Save valuable lab space with the square design of Thermo Scientific™ Nalgene™ Wide-Mouth Square Polypropylene Copolymer Bottles. Wide-mouth design allows easy cleaning, sample filling and retrieval.
Features:
Resistant to acids, alcohols and bases
Contact-clear bottle provides visible liquid level
Square design provides a large area for labeling
Linerless polypropylene closures provide the ultimate in leakproof† protection without the use of liner that can wrinkle, cause leaks or contaminate your reagents
Autoclavable
Note:
Completely disengage threads or remove cap before autoclaving.

Warranty: 90 days. For warranty terms, please contact technicalsupport@thermofisher.com.
Custom Group: Square Wide-Mouth Bottles
LeadTargetGroup: xx_ELMS
Produktgröße: Case of 48
Search Display: Family
Umbrella Brand: Thermo Scientific™
Fassungsvermögen: 500 ml, 16 oz.
Kapazität (metrisch): 500 ml
Kapazität (angloamerikanisch).: 16 oz.
Verschlussmaterial: Polypropylen (PP)
Verschlussauskleidung: Ohne Einlage
Farbe.: Naturfarben, durchscheinend
Bezeichnung: Quadratische Weithalsflasche
Durchmesser (angloamerikanisch): 2.9 Zoll
Innendurchmesser des Halses (angloamerikanisch): 1.7 Zoll
Innendurchmesser des Halses (metrisch): 43 mm
Höhe (angloamerikanisch): 5.7 in.
Material: Polypropylen-Copolymer (PPCO)
Anz. pro Karton: 48
Anz. pro Packung: 12
Autoklavierbar: Ja
Verschlussfarbe: Naturfarben, durchscheinend
Verschlussgröße: 53 mm
Durchmesser (metrisch): 74 mm
Höhe (metrisch): 146 mm
Öffnung: Weite
Verschlussart: Schraubverschluss
Custom Group: Square Wide-Mouth Bottles
LeadTargetGroup: xx_ELMS
Product Size: Case of 48
Search Display: Family
Umbrella Brand: Thermo Scientific™
Capacity: 16 oz., 500mL
Capacity (Metric): 500mL
Capacity (English): 16 oz.
Closure Material: Polypropylene (PP)
Closure Liner: Linerless
Color: Natural Translucent
Description: Wide-Mouth Square Bottle
Diameter (English): 2.9 in.
Diameter (English) Inner Neck: 1.7 in.
Diameter (Metric) Inner Neck: 43mm
Height (English): 5.7 in.
Material: PPCO
No. per Case: 48
No. per Pack: 12
Sterility: Non-sterile
Autoclavable: Yes
Closure Color: Natural, translucent
Closure Size: 53mm
Diameter (Metric): 74mm
Height (Metric): 146mm
Mouth: Wide
Closure Type: Screw closure
montrer plus
(-) Données techniques:
Volume nominal:
500 ml
Genre de col:
Col large
Matériau:
PP
Hauteur:
146 mm
Fabricant:

Thermo Scientific - Nalgene

No. d'article:

2110-0016

No. catalogue:

108721104

No. catégorie:

90050102

Catégorie:

Flacons à visser

Mots-clé:

flacons ISO, bouteilles à vis

Unité d'emballage:

48 pièce(s)

Validité:

31.12.2019

Dernière mise à jour:

17.01.2019